A New Nursing Program for Non-Nurses Near Chicago
Each blog post is dated and contains accurate information as of that date. Certain information may have changed since the blog post publication date. If you would like to confirm the current accuracy of blog information, please visit our Direct Entry MSN overview page or contact admissions at (866) 891-8438.
If you're located anywhere remotely close to the Wisconsin-Illinois area, and you're interested in turning your non-nursing degree into a masters in nursing, we've got great news for you. Marquette University is opening a new hi-tech site for its online-based Direct Entry Masters of Science in Nursing (MSN) program.
Located in Pleasant Prairie, Wisconsin, this nursing program near Chicago offers you the opportunity to earn a MSN in as few as 18 months. And get this, you won't have to earn a Bachelor of Science in nursing degree first.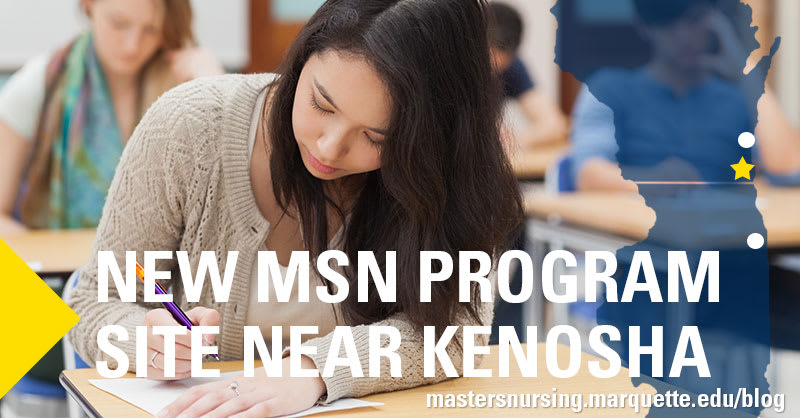 The first step to being a Direct Entry MSN Student
Becoming a graduate-level nurse through this accelerated MSN program starts with taking your prerequisites and online courses. That means you'll have the flexibility to learn in your own way. Our online learning platform—Canvas—allows you to learn in a variety of formats, by providing:
Reading assignments at a time-of-day that suits you best
Interactive, multi-media simulations if you're a visual learner
Recorded lectures to replay as many times as you need
Practice quizzes for thorough preparation
Review modules to study at your convenience
Class discussions for you to collaborate and communicate with classmates
Whether you work best at night or throughout the day, you can study and complete assignments when it's convenient for you. As long as your deadlines are met, there are no other regulations on when lessons should be completed.
Here's where the new site comes in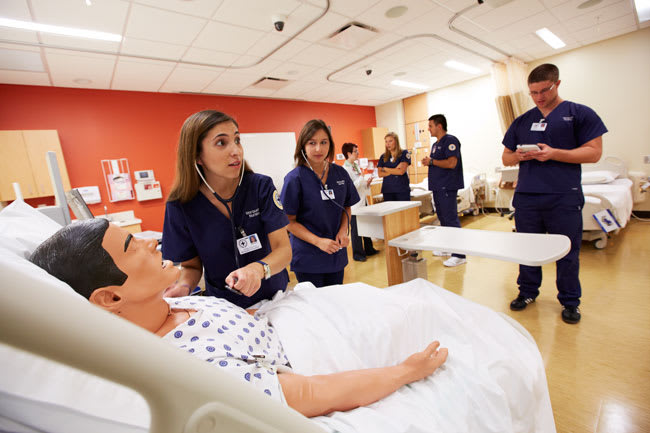 Once you've completed the online component of your nursing education, you will begin hands-on skills labs at our new site in Pleasant Prairie.
Our state-of-the-art nursing lab boasts the latest technology for classroom equipment and high-fidelity simulation, giving you a chance to learn in a safe, yet life-like environment.
Used to train nursing students and healthcare providers, manikins of low, mid and high fidelity simulation offer various technological abilities. Higher fidelity manikins can give dynamic vital signs, and have the ability to blink, cry, and mimic breathing through rising and falling chest movements. As a Marquette University Direct Entry MSN student, you would have the opportunity to work with such manikins.
Our new site has two mid-fidelity simulators, one male and female adult, which will allow you to simulate:
Caring for a patient that has normal and abnormal lung sound
Listening for a patient's heart sounds
Placing an IV on a patient
Communicating with a patient
According to Zwicky, our new site will also have two high-fidelity simulators, a birthing simulator, a pediatric and a baby simulator. And you'll have the unique opportunity to work with all of them!
Helping Your Commute: A Centrally-Located Site
In addition to completing hands-on skills labs, you will be required to gain in-hospital experience with real patients. How? Through clinical rotations at top health care facilities throughout southern Wisconsin and northern Illinois.
Within an 18-month curriculum, you will complete approximately 1020 clinical hours, working with instructors to learn vital nursing skills and get accustomed to the health care environment. Understanding your responsibilities as a nurse, as well as how you'll work together with physicians, clinical staff and coworkers are all benefits of completing your clinical rotations.
Marquette University's new site is centrally located to our clinical partners – making your commute a lot easier. You can do clinical rotations at several of our partner hospitals and health care providers in the following cities (and the list is growing):
Libertyville, IL
Barrington, IL
Hinsdale, IL
Zion, IL
Woodstock, IL
Barrington, IL
Lake Forest, IL
Kenosha, WI
Working with various providers will give you insight into which areas you may want to specialize in, such as Labor and Delivery, Intensive Care Units, or Pediatrics units.
But wait, the site isn't the best part!
The site, while remarkable, is not the only benefit Marquette University's accelerated MSN program has to offer. The Direct Entry MSN nursing program's faculty and staff are invested in your success.
Zwicky says she is personally most excited about "the class size… and dedication of the staff and nursing faculty."
Although you will complete online courses, a professor will facilitate the course and will be available to discuss assignments or answer your questions. Knowing the value of student-teacher interaction, the Direct Entry MSN program boasts smaller cohort sizes (unlike some traditional programs), to give you the support you'll need to stay informed and successful.
When it's time to move from online courses to hands-on work, lab instructors will walk you through your simulation labs, where you'll also have a chance to interact with peers in your cohort. Simply put, having an online component in your curriculum does not mean you will be on your own.
And did we mention: It's in beautiful Pleasant Prairie!
If you're interested in attending Marquette University for an accelerated, faith-based nursing program, but aren't sure about living in Pleasant Prairie, here are a few more reasons to consider it:
You'll enjoy local attractions such as Pleasant Springs Park, a 930-acre park with softball fields, picnic areas, volleyball pits, nature trails and walking/jogging trails.
You'll love the water activities at Lake Andrea, such as fishing, swimming, windsurfing, sailing, and boating.
You won't get enough of the shopping. At Pleasant Prairie Premium Outlets, you'll find top brands like Coach, Michael Kors, Nike, Kate Spade New York, UGG Australia and so much more.
Oh, and let's not forget RecPlex, the largest recreation facility in America. From the waterpark, ice arena, fitness center, to the sports… you'll be sure to find something you can enjoy!
Zwicky agrees that Marquette University's new site for the Direct Entry MSN program is in a great location, stating that, "The building is in beautiful Pleasant Prairie near the Outlet Mall, Jelly Belly Factory, and beautiful Lake Andrea; along with a variety of restaurants."
If you're looking for a nursing school that offers the latest and greatest in skills lab training, our new site in Pleasant Prairie is perfect for you. We know your time is important, which is why we offer two start dates a year, one in January and August. Don't wait another minute – take the next step towards your career in nursing by contacting an admissions adviser today!