Marquette University Nursing Celebrates 80 Years
Each blog post is dated and contains accurate information as of that date. Certain information may have changed since the blog post publication date. If you would like to confirm the current accuracy of blog information, please visit our Direct Entry MSN overview page or contact admissions at (866) 891-8438.
Marquette University's nursing program launched a yearlong celebration of its 80-year anniversary, July 29, with an evening of activities for the College of Nursing's alumni, family and friends.
The day began with an informative healthcare forum on nursing research led by former alumni JoEllen Wilbur at Weasler Auditorium. Guests at the forum had the opportunity to mingle with past classmates and faculty, reflect on their nursing school experiences, and marvel at how far the program has come. The forum was followed by a dinner cruise overlooking Milwaukee's beautiful skyline.
The College of Nursing Today
Today, Marquette University's nursing program prepares nurse leaders to promote health, healing and social justice for all people through clinical practice and knowledge development. The college works to fulfill its mission through its four standing pillars: excellence, faith, leadership, and service.
What began as the first Bachelor of Science program in the state of Wisconsin, has matured into one of the nations most successful and distinguished nursing schools. To keep the celebration alive, we are reflecting on key dates and events that have contributed to the College of Nursing's rich history.
A Look through Time
Aug. 1, 1936:
Marquette University's College of Nursing is formed as a four-year Bachelor of Science program (the first in the state of Wisconsin), with Sister Berenice Beck as inaugural dean. Twenty-three students register the following month.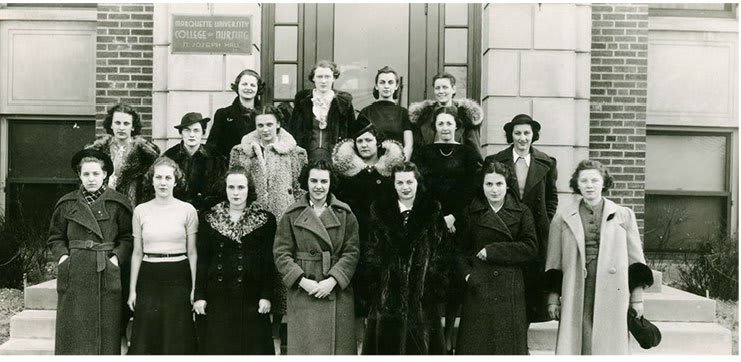 1938:
Marquette University Nurses Alumni Association is formed to encourage camaraderie among graduates.
1939:
The College establishes a Master of Science in Nursing Education program, making Marquette the third nursing school in the country to offer a graduate degree.
1940:
The College's graduating class becomes the first in Wisconsin to complete a bachelor's degree in nursing.
1941:
Leola Frank enrolls as the College of Nursing's first African-American student.
1943:
Sister Augusta Woelfel is appointed dean.
1943:
The College develops a 30-month basic program for cadet nurses in response to World War II demand.
1947:
The first male student enrolls.
1949:
Sister M. Thomas Kolba is appointed dean.
1952:
College installs mandatory entry exams for existing registered nurses.
1961:
The annual Berens Award for outstanding senior nursing student is established in memory of Anthony Berens, former regent who helped found the College of Nursing.
1963:
College moves to 3029 N. 49th St., near St. Joseph's Hospital.
1967:
Special curriculum for registered nursing students is phased out; registered nurses admitted to basic curriculum.
1970:
Sister Rosalie Klein is appointed dean.
1971:
College undergoes major reorganization; graduate and undergraduate programs move to one dean's leadership, and Marquette assumes full fiscal management of college.
1972:
The Continuing Nursing Education Program is established.
1978:
College becomes the first university nursing school to join the Midwest Alliance in Nursing.
1981:
Honoring those who achieve extraordinary breakthroughs in human knowledge or have made advancements in humanity, the Père Marquette Discovery Award, Marquette's highest honor, is presented to Mother Teresa of Calcutta.
1982:
Due to continuous growth, the College of Nursing officially moves to Marquette's main campus and present-day home of Emory T. Clark Hall.
1986:
ABC's Good Morning America features Marquette's College of Nursing to commemorate its 50th anniversary.
1986:
Sister Berenice Beck, the college's first dean is inducted into the Nursing Hall of Fame by the American Nurses Association.
1988:
Dr. Phyllis Beck Kritek is appointed dean.
1991:
Multicultural Advisory Council is created to address multicultural issues in nursing and health care.
1993:
Dr. Madeline Musante Wake is appointed dean.
1993:
Nurse Practitioner and Nurse-Midwifery programs are established at college.
1997:
Marquette Clinic for Women and Children is formed.
1998:
Marquette's Institute for Natural Family Planning is started.
1999:
Bachelor's and master's programs are accredited by the American Association of Colleges of Nursing.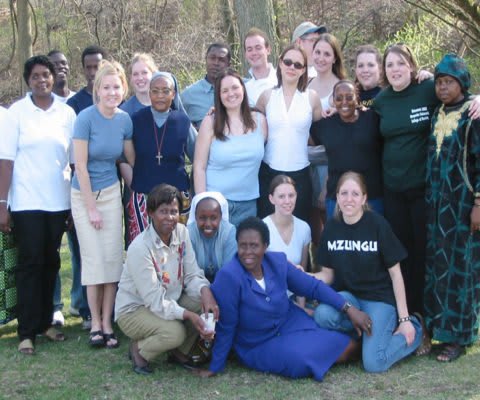 2002:
College develops the AIDS Care in Kenya Training Program.
2003:
Dr. Lea Acord is appointed dean.
Caption: Dean, Dr. Lea Acord
2003:
Doctorate in nursing program is established with a $794,000 federal grant.
2008:
Dr. Margaret Faut Callahan is appointed dean.
2008:
Doctor of Nursing Practice program established.
2009:
College's accreditation renewed by CCNE.
2009:
Peggy Troy, Marquette University alumnus is hired as president and CEO of Children's Hospital of Wisconsin.
2012:
Wheaton Franciscan Healthcare Center for Clinical Simulation opens in Emory T. Clark Hall.
2014:
College joins the VA Nursing Academic Partnership Program — one of 18 schools in the country.
2015:
Dr. Donna McCarthy is appointed interim dean.
2016:
Marquette's College of Nursing celebrates 80 years.
Get Started
Now, you have an opportunity to become part of our rich history with a new program that turns your non-nursing bachelor's degree into a master's in nursing! Our 18-month Direct Entry Master's in nursing program offers a flexible, engaging learning environment, combining online coursework with hands-on labs and in-hospital clinical rotations.
Speak With an Adviser
The advisers at Marquette University are here to support you 100 percent of the way. We understand that you are striving for success while living a busy lifestyle. Your admissions adviser will map out exactly what you need for the Direct Entry MSN program, help you review transcripts, explain financing options, schedule your prerequisites and assist you throughout the entire process.
If you think the Master's in nursing program at Marquette University is for you, speak to an admissions adviser today and learn more about what you need to do to get started.